This week the Princess of Wales had two public engagements. They are highlighted below.
On June 27, 2023, Catherine, Princess Of Wales, opened "Hope Street" at Hope Street in Southampton, England. Hope Street is a residential community developed by One Small Thing, piloting a new approach to supporting women in the justice system. One Small Thing is a charity that aims to redesign the justice system for women and their children by changing the way the justice system responds to women and their children, educating people within the justice system on the impact of trauma, and influencing politicians and policymakers to encourage culture change across the justice system and the people who work within it. Hope Street is the first of its kind. It aims to offer a community alternative for women who would otherwise be imprisoned unnecessarily due to a lack of safe accommodation or concerns around their well-being. The Princess toured the facility and learned about the support residents would receive. She also spent time with staff and left a handwritten message on the facility's Tree of Hope. "I see you, and I am with you. Good luck in all that lies ahead," she wrote, signing the note as simply "Catherine."' I'm sure this is not the last we hear of One Small Thing or Hope Street; I wouldn't be surprised if Catherine became a Patron. The Hope Street project aligns perfectly with her work in the early years, addiction, and work with women in the justice system.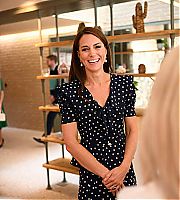 On June 28, 2023, the Princess of Wales officially opened the Young Victoria & Albert Museum, formerly the V&A Museum of Childhood. It was an exciting day for all involved, as the museum had been under construction for three years, with schoolchildren, teachers, and parents partnering in various workshops to design the building and galleries. The Young V&A is dedicated to children up to fourteen, housing the largest collection of childhood objects in the United Kingdom. The Princess of Wales, who has been the Patron of the Victoria & Albert Museum since 2018, toured the new building and spent time with children in different galleries, hearing their thoughts about the museum. It's wonderful to see such an important cultural institution dedicated to young people, and we can only imagine the joy and wonder that will come from exploring the Young V&A.
Check out our page dedicated to Catherine's work with the Victoria & Albert Museum here.
GALLERY LINKS:
– Engagements & Tour Photos > 2023 > June 27 | The Princess Of Wales Opens Hope Street
– Engagements & Tour Photos > 2023 > June 28 | The Princess Of Wales Officially Opens The Young V&A