FROM THE WEBSITE:
EACH hospices aren't just about end of life care; they're often very happy and fun places, where young people can live life to their full potential. They are places where families feel safe, at home and where they can spend quality time together.
EACH supports families and care for children and young people with life-threatening conditions across Cambridgeshire, Essex, Norfolk and Suffolk. Our family-centred approach includes specialist nursing care, symptom management support, short breaks, wellbeing activities, therapies and counselling; all meeting the individual needs of the child, young person and whole family.
EACH offers families flexibility and control over where they receive their care and support – at home, in hospital or at one of three hospices at Milton (Cambridge), Quidenham (Norfolk) and The Treehouse (Ipswich). More than half of our care and support is delivered in the family home and community, in surroundings familiar and comfortable for the family.
INFORMATION:
Catherine, Duchess of Cambridge has been since January 2012.
EFFORTS:
March 19, 2012 – Visiting The Treehouse Children's Centre – Catherine, Duchess of Cambridge made her first public speech during a visit to open The Treehouse Children's Hospice in Ipswich, England. During her visit she also met with families who use the centre, as well as the staff, joined in with the children in their music and art lessons, and planted a tree on the hospice grounds.
September 13, 2012 – Diamond Jubilee Tour – Day 3 – Prince William, Duke of Cambridge and Catherine, Duchess of Cambridge's visit Hospis Malaysua during the Diamond Jubilee Tour of South East Asia in Kuala Lumpur, Malaysia. With the attention Catherine brought to EACH they were able to make contact with Hospis Malaysia to develop practices and services. During the visit Catherine gave a speech and met with patients and their families.
April 29, 2013 – Visiting Naomi House – Catherine, The Duchess Of Cambridge marked Children's Hospice Week with a visit to Naomi House Children's Hospice near Winchester, Hampshire, England. She spent time chatting with volunteers, patient families and supporters. Afterwards she joined brothers and sisters of patients for a tea party.
June 13, 2013 – Princess Cruises Ship Naming Ceremony – The Duchess of Cambridge, named Princess Cruises' newest ship and became Godmother to 'Royal Princess'. The naming ceremony was the highlight of week-long celebrations to welcome the vessel into service, which included a special naming gala the evening before. A bereaved family, who has received care and support from EACH, were special guests at the naming ceremony and presented Catherine with a pair of scissors to cut the rope for the bottle break.
April 18, 2014 – Australia And New Zealand Tour – Day 12 – Catherine, Duchess of Cambridge visited children and relatives at the Bear Cottage Hospice at Manly in Sydney, Australia. The Duke and Duchess of Cambridge were on a three-week tour of Australia and New Zealand, their first official trip overseas with their son, Prince George of Cambridge. Due to Catherine being Patron of EACH she is able to work with organisations across the world because of this she and Prince William were able to meet with Gabrielle and Paul Quilliam; co-founders of the charity Queensland Kids which is working to open Hummingbird House – a children's hospice for Queensland. In August 2014 EACH entered into an International Children's Palliative Care Network twinning agreement with Queensland Kids to support the start-up phase of Hummingbird House, offering advice on organisational structure and the development of their model of care, staff training and charity shop strategy.
November 25, 2014 – Attending East Anglia's Children's Hospices Appeal Launch – Catherine, Duchess of Cambridge attends the East Anglia's Children's Hospices (EACH) Norfolk Capital Appeal launch event at the Norfolk Showground in Norwich, England. The event launched a fundraising appeal for a new EACH hospice in Norfolk. Limited edition mugs by Emma Bridgewater were unveiled to The Duchess who had a hand in the partnership. The mugs will be used to help raise money for the new hospice.
February 18, 2015 – Visiting Emma Bridgewater Factory – Catherine, Duchess of Cambridge visits the Emma Bridgewater factory to see production of a mug the company has launched in support of East Anglia's Children's Hospices in Stoke on Trent, England. The Duchess was given a tour of the factory. Her Royal Highness was not afraid to get her hands dirty as she tried her hand at making a plate and painting designs on one of the mugs. Catherine also met with children and their families from Donna Louise Children's Hospice. Before her visited ended The Duchess unveiled a plaque to commemorate her visit.
March 18, 2016 – Opening New EACH Charity Shop – Catherine, Duchess of Cambridge spent 45 minutes meeting staff, volunteers, and families helped by the charity, as well as doing a bit of retail therapy, buying a Fireman Sam book for Prince George, The Duchess also spent some time sorting clothing and trying on a hat, as she tooka tour of the new EACH charity shop that she officially opened earlier today in Holt, United Kingdom.
June 22, 2016 – The Duke And Duchess Of Cambridge Attend Gala Dinner To Support EACH Nook Appeal – Catherine, Duchess of Cambridge attends a gala dinner in support of East Anglia's Children's Hospices' nook appeal at Houghton Hall in King's Lynn, England. Hosted by David Cholmondeley, the 7th Marquess of Cholmondeley and his wife Sarah, Marchioness of Cholmondeley, at their country home Houghton Hall in Norfolk and titled 'A Taste of Norfolk" The Duke and Duchess along with other guests were treated to a 5 course meal and musical performances, including a performance from the charity's Treehouse Choir. The goal of the night was to raise funds for a new hospice, The Nook.
January 24, 2017 – Visits East Anglia's Children's Hospice At Quidenham – Catherine, Duchess of Cambridge visited The Nook Appeal at EACH in Quidenham, Norfolk. During her visit The Duchess met with staff, volunteers, families, and donors. Received an update on fundraising efforts, and took part in a therapy session with the children.
April 04, 2017 – '42nd Street' Opening Night Royal Gala In Aid Of EACH – Catherine, Duchess of Cambridge, attends a presentation following the Opening Night Royal Gala performance of '42nd Street' in aid of the East Anglia Children's Hospice at the Theatre Royal Drury Lane in London, England. The Duchess was greeted on the red carpet by EACH representatives. After the show Catherine met with the cast and crew and posed for a photograph. She was also presented with a pair of tap shoes from producers and director.
November 15, 2019 – The Duchess Of Cambridge Opens The Nook Children Hospice – Five years ago The Duchess of Cambridge helped launch The Nook Appeal, which aimed to raise £10 million for a purpose-built children's hospice which includes a hydrotherapy pool, state-of-the-art sensory room and music studio. The Nook will also offer specialist nursing care, symptom management nursing, well-being activities, therapies, counselling and volunteer services. During her visit The Duchess toured the facilities, including the hydrotherapy pool and state-of-the-art sensory room, she also met and participated in activities with children and their families. She also gave a speech to 300 guests.
June 18. 2020 – The Duchess of Cambridge Visits Garden Centre In Norfolk – In her first public outing since the COVID-19 Pandemic shut the world down, The Duchess of Cambridge paid a visit to Fakenham Garden Centre, where she met the centre's owners, before speaking to staff members. The Duchess heard about the measures which that the garden centre has implemented to ensure that customers are able to visit and shop safely.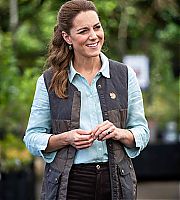 June 25, 2020 – Planting Flowers At EACH Framingham Earl, Norfolk – During a visit to East Anglia's Children's Hospices (EACH), the Duchess of Cambridge joined families, a volunteer gardener, and staff at The Nook to plant a sensory garden. The Duchess planted a sunflower in memory of Fraser Delf, a nine-year-old boy from Huntingdon who passed away in January of Coats Plus syndrome. The tribute was arranged during a video call with Fraser's parents and brother, and EACH later moved the sunflower to its hospice in Milton, Cambridgeshire, where Fraser spent his final weeks. The family visited the hospice in July and saw the sunflower, now in full bloom, for the first time.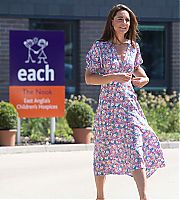 December 08, 2021 – "Together At Christmas" Community Carol Service – Volunteers and families receiving care and support from East Anglia's Children's Hospices (EACH) were invited to join The Duchess of Cambridge for a carol service at Westminster Abbey. The event was held to recognize and celebrate the incredible work done by those in their communities, with the themes of love, compassion, community, and togetherness taking center stage. EACH was asked to nominate a small number of "unsung heroes," particularly those who have gone above and beyond during the pandemic. Among those selected were Brad and Debbie McLean from Norfolk, who received bereavement counseling after their 18-month-old son Stanley passed away in 2012. Also honored were Stuart and Carla Delf from Cambridgeshire, who received support from EACH during the life and following the death of their son Fraser, as well as John Skoyles from Suffolk, a fundraising volunteer for three years who volunteers for EACH's Help at Home service and has provided one-off support to families and helped with weekly PPE runs across East Anglia. The event was televised, with additional footage spotlighting individuals and organizations who have achieved incredible work in their communities.
June 23, 2022 – The Cambridges Visit Cambridgeshire – Their Royal Highnesses, The Duke and Duchess of Cambridge, visited East Anglia's Children's Hospices (EACH) at Milton. The Duchess, the charity's Royal Patron, marked her ten-year anniversary of patronage this year. During the visit, the Duke and Duchess toured the hospice, which Diana, Princess of Wales, opened on August 1st, 1989. They met with children, young people, and families who use services through EACH and participated in art activities with families. The visit occurred during Children's Hospice Week, a national week aimed at raising awareness of the vital work of children's hospices across the country. The theme for the week was #ForTheChildren, highlighting the importance of the expert care provided by children's hospices. The Duchess also marked the week by penning a message to EACH saying in part, "Every day, the UK's 54 children's hospices are a vital lifeline for families caring for a seriously ill child, and over the last ten years I have been privileged to see first-hand the incredible work they do. This year, the theme for Children's Hospice Week is 'For the Children', reminding us all that as well as providing expert care, children's hospices bring joy, fun and play to brighten each day and help families make the most of their lives together, no matter how short." You can read the rest of her letter here.