On July 14, 2019 The Duke and Duchess of Cambridge attended the Gentlemen's Singles Final.
The Duke and Duchess met ballboys and ballgirls before heading to the Royal Box to watch Roger Federer and Novak Djokovic in the finals. Catherine's mother Carole, sister Pippa, brother James and his girlfriend Alizee Thevenet were also in attendance.
It was a whirlwind of the match-up lasting five hours with Novak Djokovic winning his fifth Wimbledon title.
For the first time as Patron, The Duchess presented the Wimbledon Gentlemen's Singles Final trophies alongside The Duke of Kent who is President of The All England Lawn Tennis Club.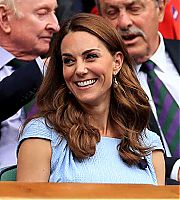 GALLERY LINK
Engagements & Tour Photos > 2019 > July 14 | Wimbledon – Day 13 – The Championships