On January 20, 2020 The Duke and Duchess attended a Reception To Mark The UK-Africa Investment Summit.
On behalf of Her Majesty The Queen, The Duke and Duchess accompanied by The Earl and Countess of Wessex and The Princess Royal hosted heads of state and government and senior representatives from African countries, key multilateral agencies and high profile UK and African businesses.
The Duke said in part during a speech: "The African continent holds a very special place in my heart. It is the place my father took my brother and me shortly after our mother died. And when deciding where best to propose to Catherine, I could think of no more fitting place than Kenya to get down on one knee. Throughout my life, I have been lucky enough to spend time in many other parts of Africa. I'm also honoured to be the Patron of the Royal African Society. And as Catherine and I have said to several of you here tonight, we hope to have the chance to visit many more countries in the future and share our mutual love of your continent with our children."
You can read the rest of his speech here.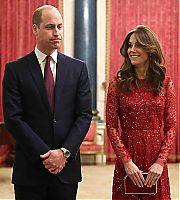 GALLERY LINK
Engagements & Tour Photos > 2020 > January 20 | Reception To Mark The UK-Africa Investment Summit