The Princess of Wales is back from summer vacation and had two public engagements this week. They are highlighted below.
On September 08, 2023, Prince William and Catherine, the Prince and Princess of Wales, made a trip to Wales to commemorate the one-year anniversary of The Queen's death. The royal couple visited St. Davids Cathedral in Pembrokeshire for a private service, where Princess Catherine laid flowers at a portrait of The Queen inside the Cathedral. Later, William and Catherine met with people who had the privilege of meeting Her Majesty during her 70-year reign. Other members of the public gathered to see the Prince and Princess of Wales.
After attending the service at St. Davids Cathedral The Prince and Princess visited Câr-Y-Môr Seaweed Farm, a key partner of Notpla, the sustainable packaging start-up and the winner of the prestigious 2022 Earthshot Prize for 'Build a Waste-Free World.' The royal couple met with the farm's staff and volunteers to learn about their work and its positive impact on the ocean and the environment. Câr-Y-Môr Seaweed Farm is the first regenerative farm in Wales, and it supports the local community by providing jobs, seafood, and restoring and protecting the environment. Prince William even tried some of the seaweed and commented that it had a "salty" taste. You can see more of Catherine's efforts in supporting The Earthshot Prize here. From there the couple transferred to a RNLI St Davids Lifeboat where they travelled to a new station to meet the crew and volunteers. The Queen was Patron of the RNLI from 1952 until her death last year.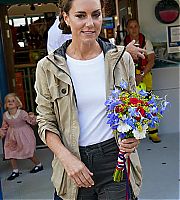 On September 09, 2023, The Prince and Princess of Wales joined Princess Anne, Patron of Scottish Rugby and Mike Tindall (Princess Anne's son-in-law), James Haskell and Alex Payne's podcast, The Good, The Bad & The Rugby. The Princess is Patron of England Rugby and Prince William the Welsh Rugby Union. The fifty minute podcast is full of gems, like how Princess Anne accidently became the Patron of Scottish Rugby, the only time Prince William cried while watching a sport, William and Catherine's competitiveness, and Catherine's love of swimming. You can watch the podcast here and see Catherine's recent efforts supporting England Rugby here.
Lastly, while we were all enjoying the podcast, Catherine travelled to France for the Rugby World Cup to watch England take on Argentina. England won and afterwards The Princess headed to the locker room to congratulate players. Prince William will head to France on September 10, 2023 in his role as Patron of Welsh Rugby to watch Wales and Fiji.
GALLERY LINKS:
– Engagements & Tour Photos > 2023 > September 08 | Commemorating The Life Of Queen Elizabeth II
– Engagements & Tour Photos > 2023 > September 08 | Engagements In St Davids, Pembrokeshire, Wales
– Engagements & Tour Photos > 2023 > September 09 | The Good, The Bad & The Rugby Podcast
– Engagements & Tour Photos > 2023 > September 09 | Rugby World Cup – England v Argentina