INFORMATION:
FROM THE WEBSITE: SportsAid helps young, unfunded athletes to overcome one of their greatest barriers to success – the financial challenge of trying to become Britain's next generation of Olympians, Paralympians and world champions.
SportsAid supports over 1,000 athletes each year – the vast majority aged 12 to 18 – by providing them with a financial award to help towards training and competition costs. This acts as a real motivational boost as it is often the first recognition they receive outside of their support network. Most of them rely heavily on their parents as they have no other funding.
These athletes are Great Britain's brightest sporting prospects. They are nominated to SportsAid by the national governing bodies of more than 60 sports based on set criteria from each. The typical value of a SportsAid award is £1,000 with money generated through a combination of commercial partnerships, trust and charitable funds, and fundraising activities.
The charity delivers personal development opportunities to many athletes through workshop sessions. This sees them offered mentoring by Olympians and Paralympians while gaining advice from industry experts on performance lifestyle management, sports psychology, nutrition, telling your story through the media and how best to seek further sponsorship.
SportsAid also manages the Talented Athlete Scholarship Scheme (TASS) and Backing The Best programme on behalf of Sport England. TASS helps athletes (16-plus) balance their sporting and academic careers, while Backing The Best supports the most financially challenged young sports stars looking to overcome cost barriers to fulfil their potential.
INFORMATION:
Catherine, Duchess of Cambridge became Patron in April 2013.
EFFORTS:
October 18, 2013 – The Duchess Of Cambridge Attends A Sportaid Athlete Workshop – In her first event since the birth of Prince George, Catherine, Duchess of Cambridge watched a number of sports activities, including wheelchair basketball before trying her hand at volleyball as she attends a SportsAid Athlete Workshop in the Copper Box Arena at the Queen Elizabeth Olympic Park in London, England. The Duchess also joined athletes and their parents at educational workshops focusing on nutrition in sport, general guidance, working with media and utilizing social media.
November 28, 2013 – The Duchess Of Cambridge Attends The SportsAid Annual Dinner – Catherine, Duchess of Cambridge attends The SportsAid Annual Dinner at Victoria Embankment Gardens in London, England. During the event Catherine met with athletes, enjoyed dinner at the reception, and passed out the One-To-Watch Award.
July 05, 2014 – Attending The Tour De France Grand Depart – The Duchess of Cambridge meet with five athletes supported by SportsAid at the Grand Depart of the Tour de France in Yorkshire. The athletes were invited to join both the Duke and Duchess of Cambridge at the finishing line in Harrogate where SportsAid trustee Ian Braid made the introductions.
July 29, 2014 – The Duchess of Cambridge At The Commonwealth Games – Catherine Duchess of Cambridge attends a SportsAid reception at SSE's Home Nation House during her visit to the Glasgow 2014 Commonwealth Games. Her Royal Highness met with fifteen athletes – including three competitors in the Commonwealth Games at Home Nation House where she also viewed a mentoring session led by tennis star Laura Robson and former world champion open-water swimmer Keri-Anne Payne.
December 09, 2015 – The Duke And Duchess Of Cambridge Attend The ICAP Charity Day – Catherine, Duchess of Cambridge and Prince William, Duke of Cambridge attend the ICAP charity day to raise funds athletes in London, England. During their visit William and Catherine received a tour of the brokerage firm's London offices where they met staff, brokers and representatives from their patronages who would be benefiting from proceeds raised. Catherine raised money for Place2Be and SportsAid. The Duke and Duchess also enjoyed a game of ping pong.
June 09, 2016 – The Duchess Of Cambridge Attends The 40th Anniversary Of SportsAid – Catherine, Duchess of Cambridge attends SportsAid's 40th anniversary dinner at Kensington Palace in London, England. The Duchess will met SportsAid ambassadors and young athletes who will be competing in the Rio 2016 Olympics as well as some of the charity's key supporters.
March 22, 2018 – The Duke And Duchess of Cambridge Undertake Engagements Celebrating The Commonwealth = While celebrating the Commonwealth Prince William, Duke of Cambridge and Catherine, Duchess of Cambridge meet wheelchair basketball players, some of whom hope to compete in the 2022 Commonwealth Games in Birmingham, during their visit to the Copperbox Arena in London, England.
July 02, 2019 – Wimbledon – Day 2 – The Championships – The Duchess of Cambridge watched Britain's Harriet Dart play against U.S. player Christina McHale in Wimbledon's outer courts with Anna Keothavong and Katie Boulter, both ladies, along with Harriet have previously recieved support from SportsAid, a charity that offers financial support to athletes at the beginning stages of their careers. The Duchess has been Patron since 2013. Later, Catherine moved to the Royal Box to watch Angelique Kerber vs Tatijana Maria. During her visit The Duchess also visited the Aorangi Park to see the practice courts and players' warm-up area. There she met Johanna Konta and Wimbledon Champion Andy Murray. She also met a number of finalists and winners nominated for the annual LTA Tennis Awards which recognize people who volunteer at grassroots level to grow and open up the sport.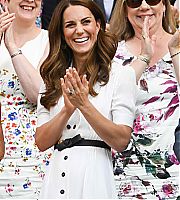 ---