INFORMATION:
The UK's biggest mixed youth organisation. They change lives by offering 6 to 25 year olds fun and challenging activities, unique experiences, everyday adventure and the chance to help others so that we make a positive impact in communities.
Scouts helps children and young adults reach their full potential. Scouts develop skills including teamwork, time management, leadership, initiative, planning, communication, self-motivation, cultural awareness and commitment. We help young people to get jobs, save lives and even change the world.
Scouts take part in activities as diverse as kayaking, abseiling, expeditions overseas, photography, climbing and zorbing. As a Scout you can learn survival skills, first aid, computer programming, or even how to fly a plane. There's something for every young person. It's a great way to have fun, make friends, get outdoors, express your creativity and experience the wider world.
This everyday adventure is possible thanks to our adult volunteers, who support Scouts in a wide range of roles from working directly with young people, to helping manage a Group, to being a charity Trustee. We help volunteers get the most out of their experiences at Scouts by providing opportunities for adventure, training, fun and friendship.
Our award-winning training scheme for volunteers means that adults get as much from Scouts as young people. Our approach focuses on what you want to get out of volunteering with Scouts, while respecting how much time you can offer. Over 90% of Scout volunteers say that their skills and experiences have been useful in their work or personal life.
The Duchess of Cambridge is a volunteer.
EFFORTS:
05/02/2012 – Camping With Scouts In Anglesey – Catherine, The Duchess of Cambridge (and Lupo) quietly volunteered in a camping trip for The Scout Association in Anglesey.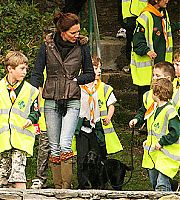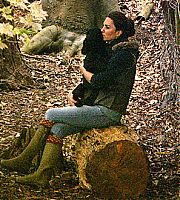 03/22/13 – The Duchess Of Cambridge Visits Great Tower Scout Camp – Catherine, Duchess of Cambridge visits Great Tower Scout camp on March 22, 2013 in Windermere, Cumbria, United Kingdom. The Duchess of Cambridge attended a scout volunteer training day today in Newby Bridge in Cumbria. The training course is being run in Great Tower, one of the Scout Association's national activity centres set in 250 acres of land offering a wide range of land and water based activities, including archery, low and high ropes, climbing, abseiling, sailing and canoeing.
04/21/2013 – The National Review Of The Queen's Scouts At Windsor Castle – Catherine, Duchess of Cambridge attends the National Review of Queen's Scouts at Windsor Castle on April 21, 2013 in Windsor, England.
12/16/2014 – Visiting 23rd Poplar Beaver Scout Colony – Britain's Catherine, Duchess of Cambridge, wearing a blindfold, is helped to ice a cake by Fynley Gooch, aged 7, as she promotes disability awareness while meeting with children at the newly established 23rd Poplar Beaver Scout Colony on December 16, 2014 in east London, England. The Duchess's visit supports the Scout Association's 'Better Prepared' campaign, which aims to help communities to deliver Scouting to two hundred locations across the UK where Scouting can have the biggest impact.
12/14/2016 – Attending A Cub Scout Pack Meeting To Celebrate 100 Years Of Cubs – Catherine, Duchess of Cambridge interacts with children during an official visit to a Cub Scout Pack meeting to celebrate 100 years of Cubs on December 14, 2016 in King's Lynn, England.