INFORMATION:
The Art Room offers art as therapy to children and young people to raise their self-esteem, self-confidence and independence.
Many of the children who come to The Art Room are disengaged from mainstream education, disruptive or withdrawn and all have been identified as needing special time away from their classrooms. The problems students might have include experiencing numerous educational interruptions or having specific learning difficulties or autism spectrum disorders. Some have recently arrived in this country, others are prime carers within their family, or are 'looked-after' children in the care system. Some might just need a respite from the pressures of mainstream education.
The Art Room has demonstrated that in a caring and creative environment the most challenging children can 'learn and achieve through art'. Our methodology has been tried and tested in both specialist and mainstream schools with positive results.
EFFORTS:
02/21/2012 Catherine, Duchess Of Cambridge Visits Schools In Oxford – Catherine Duchess of Cambridge visits Oxford Spires Academy in Oxford, England. Catherine, Duchess of Cambridge, as patron of charity The Art Room, visited two schools in Oxford in association with the organisation that works with children to increase self-confidence and self-esteem.
06/15/2012 – Performance Of 'The Lion, The Witch & The Wardrobe' In Kensington Gardens – Catherine, Duchess of Cambridge osts children and young people from The Art Room at a performance of 'The Lion, The Witch and The Wardrobe' in Kensington Gardens on June 15, 2012 in London, England.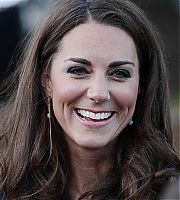 02/14/2014 – ICAP Art Room Opening At Northolt High School– Catherine, Duchess of Cambridge attended the ICAP Art Room opening at Northolt High Schoolin London, England where she joined children in a workshop.
01/15/2015 – Officially Naming The Clore Art Room At Barlby Primary School – Catherine, Duchess of Cambridge officially opens The Clore Art Room at Barlby Primary School in London, England. The Duchess of Cambridge was gifted a chair the students made from stamps donated by the Royal Household. Catherine also met pupils and staff and then joined a round table discussion about the work of The Art Room.
10/27/2015 – 100 Women in Hedge Funds Gala in aid of the Art Room – Catherine, Duchess of Cambridge attends the 100 Women In Hedge Funds Gala Dinner In Aid Of The Art Room at Victoria and Albert Museum in London, England.
02/24/2016 – The Duchess Of Cambridge Visits Edinburgh – Catherine, Duchess of Cambridge visits Wester Hailes Education Centre (WHEC) for a function with The Art Room as her second engagement of the day in Edinburgh. The Countess of Strathearn, as she is titled in Scotland met with staff and students.